Artist: Stephen Pavey, David Solnit
Medium: Poster, Visual Art
Project: We Cry Justice
We Cry Justice – Chapter 19: Naboth's Vineyard and the Struggle for Oak Flat
One Drum, One Prayer, One Circle comes from a quote said by Dr. Wendler Noise, Sr of the Apache Nation as the Apache Stronghold launched their spiritual convoy to the Ninth Circuit Court in CA to appeal the government's transfer of Oak Flat, a a sacred site in Arizona's Tonto National Forest, to Resolution Copper.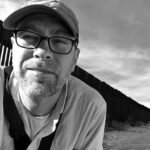 Dr. Stephen Pavey is the Director of Story-based Strategy and Research for the Kairos Center. He received a Masters of Divinity from Asbury Theological Seminary and a PhD from the University of Kentucky in applied cultural anthropology.  In 2020 he completed the Living School program at the Center for Action and Contemplation.  He founded Hope In Focus in 2010 for story-telling praxis engaged in the struggle for our collective liberation through participatory research and contemplative photography created with and committed to walking alongside the marginalized and oppressed of the world. He has worked in over 30 countries around the world largely with indigenous, undocumented, and migrant communities facing state violence. He is the author of The Eclipse of Dreams: The Undocumented-led Struggle for Freedom (2020), 'Make Holy the Bare Life' (2016), and Theologies of Power and Crisis (2014).
David Solnit is an arts organizer who has worked with social change movements over the last 25 years to use arts (from street murals to art builds to giant puppets and theater pageants) as a key element in successful campaigns and powerful mass actions. He was a lead organizer using arts to shut down the WTO in Seattle in 1999, has supported farmworkers with the Coalition of Immokalee Workers to win dignity in the fields to the last decade popularizing arts in the climate justice movement, including working as 350.org's arts organizer for 5 years. He is currently working with the Poor People's Campaign and grassroots climate justice, and social justice campaigns.